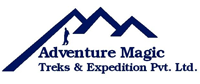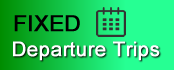 Chitwan Package Tour: 2 nights - 3 days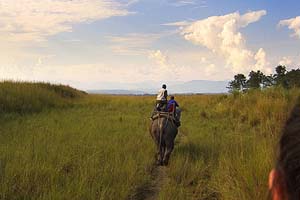 The Chitwan region has had a long history of conservation. For many years it was the Royal hunting grounds for the Kings and dignitaries of Nepal and therefore was not hunted by the general public. It did however become a favorite spot for big game safari hunters in the late nineteenth and early to mid-twentieth centuries. This was coupled with a surge in local human populations following the development of anti-malaria medicines in the mid-twentieth century.

Chitwan Tour Itinerary:
Day 1: Drive to Chitwan National Park upon arrival, rooms assigned and there will be a short briefing on the program and our facilities. 4:00 PM: Elephant-back safari: Guests will ride on an elephant to explore the jungle and wildlife you will be able to see the one-horned rhinoceros, several types of deer, monkeys, wild boar, bison, sloth bear, leopard and, if lucky, the Royal Bengal tiger. This exciting ride lasts for 2-3 hours. 7:00 PM: Dinner in the central dining hall. (B.L.D)

Day 2:

5:30 AM: Wake-up call followed by tea or coffee, and then proceeds on a Nature Walk. This encounter on foot with the environment will introduce the main features of eastern Chitwan. Sal forest, open grassland and reverie jungle. Our guides will help you identify some species of birds, plants and other wildlife that you may encounter.

8:30 AM: Breakfast

9:30 AM: Elephant briefing program: Learn more about these fascinating animals during a visit to our elephant stable. (For the brave ones there is even a crash course in riding and leading the elephants)

1.00 PM: Lunch. After lunch, canoeing: A traditional dugout canoe takes you on a silent trip down the Rapti river to view aquatic birds and the animals of the riverbanks. Back to resort through the Jungle.

7:00 PM: Tharu Stick dance: Farmers of the nearby villages will show some of their traditional skills and dances. 8:00 PM: Dinner around the camp firing. (B.L.D)

Day 3: Royal Chitwan NAtional Park - Kathmandu

5.30 AM: Bird Watching (or another elephant ride) after early morning tea/coffee.

8.00 AM: Breakfast

9.00 AM: Luggage down and departure at 9.30 AM. to Kathmandu.

The actual program for your stay, will be given to you on arrival at Resort / camp. The activities are adjusted to the season and weather conditions. Naturally, it may not always be possible to follow this schedule to the minute and the circumstances may force us to alter the program at short notice. On safari in the jungle you will be accompanied by expert naturalists who will advise on safety procedures and we request you to respect their judgment at all times. If you wish to stroll in the forest alone, a guide will have to accompany you for your safety.

Cost Inclusive For Chitwan Tour
Tourist Bus from Kathmandu-Chitwan-Kathmandu
Meals on full board basis (Breakfast, Lunch, Dinner) during the safari only
Twin sharing accommodation in lodge
Chitwan National Park entry fees
All activities as per itinerary with guide
Cost Exclusive for Chitwan Tour
Lunch & dinner In Kathmandu
Intl.flights comfirmation(available on request)
Personal travel insurance & helicopter evacuation
Personal expenses & tips.