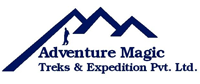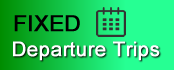 Mardi Himal Trekking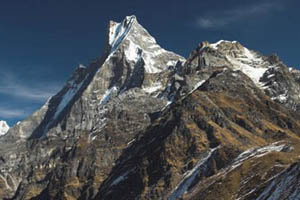 Mardi Himal treks choicest destination for travelers who would like to experience the splendor of solitary ever snow capped peaks and great opportunity of an excellent cultural experience and venture of Machhapuchhare Base camp. Name of the Mardi Himal given to the feature of the long rising ridge summit, which is from the south-westerly lower slope of triangular skyline Mt. Machhapuchhare (6,993m) seen from the Phewa Lake at Pokhara city too. It has closer westerly vantage point, the mountain possesses twin peak -thus its name, Machhapuchhare, which is English means "Fish tail".

The first part of Mardi Himal Trekking trail goes to through the pine, Juniper and rhododendron dense forest with raging rivers making sound, then different route takes us steeply down to the upper Mardi Khola. The stream has been the ice and the snow of the Mardi Himal. Trekking route of Mardi Himal offers you isolated and still away from all the much-used trekking routes and takes on the moods of the warm valleys with kind hearted friendly people. The trail follows along the bank of the Mardi Khola from the idyllic Nepali hill- side village of siding through the lovely rice terrace and unique culture villages. The trail of Mardi Himal Trekking ascends through the forest and verity wildlife on above the Machhapuchre High Camp (4,100 m). It offers view of hillock of Mardi Himal (5,588 m) Mt. Annapurna massif, around these appears majestic grouping of mountains in the central Himalayan that includes most amazing close quarter's views of 5 of the 14 highest mountains in the world.

The Annapurna Mardi Himal Trek is perhaps the least visited trekking area among the trekking routes, which offers the opportunity of an excellent cultural experience and adventure of Machhapuchhare Base camp. Mardi Himal Trek or Machhapuchhare Trekking is one of the bitten Eco-tourism based on trekking destinations in Nepal Himalaya. The Khair Trekking tenders the opportunity to escape Nepal's tourist trails to venture in to the deep forests and travel the high alpine pastures that edge of the Annapurna Himalaya. It emphasis on the wilderness zone of mountains designed to provide outstanding mountain views, and to get away from the tea-house trails and into the forests and villages that have not felt the impact of tourism.
Day to Day Itinerary for Mardi Himal Trekking
Day 01: Arrival day in Kathmandu (1,300m/4,264 ft)
Welcome to Himalayan country of Nepal.Upon your arrival at the Tribhuvan intl. airport our representative welcomes you and assists to transfer in your hotel in Kathmandu. After time to get refreshed, evening you'll meet and transfer for welcome dinner in one of the typical Nepalese restaurant in the heart of Kathmandu and briefing about your trip and overnight at Hotel.
Day 02: Kathmandu valley sightseeing & trek preparation (1,300m/4,264 ft)
After breakfast the day will start to our guided trip to cultural world heritage sites in Kathmandu valley; the pilgrimage sites of Hindus temple Pashupatinath, the world biggest Bouddhanath stupa and visit Swoyambhunath Stupa also known as monkey temple. After exploring the surrounding areas visit historical Kathmandu Durbar Square with temple, unique architectures and Kumari (living goddess). Evening pre-trip discussion and introduce with our fellow trekking staff for your adventure trip.
Day 03: Drive from Kathmandu to Pokhara valley (823m/2,700ft), 5-6 hrs drive
Early morning drive by tourist bus to Pokhara through the beautiful Nepalese countryside to reach the Pokhara lakeside and transfer to the hotel and rest of the time explore the surrounding lakeside areas and overnight at hotel.
Day 04: Drive to Phadi (1080m) -45 munites to 1 hours, and trek to Dhampus (1580m) -1:30 to 2 hours
After one hour driving by private Car/ Van, the trails steeply climb through forests alive with birds, fern and orchids in to the dense forest, first part. Then the trail goes through the farm terrace with village of the hill at Dhampus (1580m), where offers spectacular mountains vista with locals culture, have been running until now and farther can be seen Pokhara valley. The houses of here are picturesque traditional architecture and style. The sunset and sunrise is one of the best from here. You are rewards with great views of the mountains and people culture. Stay overnights at Dhampus with nature beauties and human made charming.
Day 05: Trek Dhampus to Forest camp (2480m) -5 to 6 hours
Today we will start our trips through the secret trail, leaving main tourists route and even villagers. Then the trail leads us to the an enchanted forest of rhododendron, mountain oak, maple, hemlock and daphnia a small clearing far from the beaten trail. The place, where we set our camp is tranquil atmosphere offering mountains breathtaking view. We stay overnight at camp in Tent.
Day 06: Trek Forest camp to Humal (3150m) -4 to 5 hours
After breakfast, we climb through the dense forest, where birds are chirping, and some others wildlife can encounter.The flora has turned to classic cloud forest with mosses and lichen, tree ferns and orchids hosted by the hardier trees. The trail follows through the natural windows in the woods that look out on to thrilling panoramas towards Hiunchuli, fascinating vista of Fishtail and the knife-sharp traverse towards Annapurna South. Far below to the left, we can see the Modi Khola valley leading up into the Annapurna sanctuary. We set up our camp after 5 hours walk, surrounded by forest with spectacular northerly views of the ever-closer Fishtail.
Day 07: Trek Humal to Ghue (4100m) -4 to 5 hours
The more enjoyable trail, heading us through the forest short steep climb. A ridge, now grassy and sometimes under snow, takes us up to high camp which we shall reach at lunch time and where a second consecutive afternoon is spent enthralled views of Annapurna panorama. Annapurna South seems near enough to touch of us. We get in Ghue for overnight, after 4/5 hours pleasant walk. The view today is life time unforgettable.
Day 08: Trek Ghue to Machapuchhare Base Camp (4100m) -day hike as you wise
After hot breakfast, we hike up to at 5000m elevation with packed lunch. The conditions being favorable, trip can reach up to view point and only the crest of Mardi Himal itself separates from the south face of Machhapuchae and the great blue glaciers of the Sanctuary Wall lie below is rewarded. The Mt. Annapurna I, highest of all is beyond, and around, in an arc from horizon to horizon, from Dhaulagiri to the Mustang, are a dozen or more glistening snow- bound giants Himalaya. Standing on the spot 5000m elevation is constant aim for our today journey. This place is, a time, a view that is almost impossible to equal –and earned it anywhere else. Whatever achievement, by 1:00pm and back trip to camp for overnight.
Day 09: Trek Ghue to Sedding (1500m) -6 to 7 hours
Due to yesterday long walk, our tired bodies make an unhurried descent through the shade of the forest, and out onto terraced fields, down 1600m, different route down-down to the upper Mardi Khola, the violent flow that has been the ice and snow of the Mardi Himal. Although it is remote and still away from the much-used 'Tea – house' trekking routes, our expedition now takes on the moods of the warm valley and the friendly villages. Here, we make our way along the banks of the Mardi Khola from the hill – side village, down through the lovely fields, past the simple farms and over the interesting bridges to the Sidding. Here is no doubt this is indeed the idyllic Nepali countryside experience.
Day 10: Rest & Explore Day around Sedding
Today is explore day, the trail from siding follows the river valley gradually down between the pastures and through the Tamang and Gurung villages. Our tents, familiar to us in rugged mountain landscape, look a little incongruous this evening planted here among the paddy terrace. Back to Seding, overnights stay.
Day 11: Trek Sendding to Thulo Chaur (1600m) -4 to 5 hours
After breakfast, the trail follows through the field terrace at first, and then goes to forest with veracity of vegetation. The view around the path is amazing landscape with traditional cultural live hood, and tremendous Himalaya scenery. After 4 to 5 hours pleasant walking, we get in Thulo Chaur.
Day 12: Trek Thulo Chaur to Ghachock (1150m) -3 to 4 hours
The trekking path descends to the Ghachok about 3 to 4 hours with magnificent nature astonishing and explores Gurung people culture and live hood. Still the vista of the Himalayan is increasable, which is may be life time unforgettable experience. We stay overnight at tent camp in Ghachok.
Day 13: Trek Ghachock to Pokhara (950m) -3 hrs walk and 1hrs drive
There are just a few hours of walking – the trail skirts an outcrop – there's the road, there's our transport, and soon we're back in Pokhara for our last lunch. This last afternoon is spent showering and relaxing. Some have enough energy for rowing on the lake, others only for lounging in pie shops.
Day 14: Drive back to Kathmandu early in the morning by Tourist Bus - 6 to 7 hours
We will be ready at 6:00 morning in hotel lobby with having your breakfast or advice as your trekking guide or you're wise. We will drive back to Kathmandu through the road passing terraces, streams, rivers, local settlements, high hills and along the river side. It takes about 7 hours (conditional) to reach your hotel in Kathmandu.
Day 15: Final Departure to your Destination
Today is free or last minute shopping for souvenirs or gift to your family, friends or relatives for you until departure flight/drive. Our assist will be transfer to the International Airport for your departure flight to your onwards destination
Cost Inclusive:
Airport arrival and departure by private vehicle
Deluxe twin sharing accommodation in Kathmandu
All local transportation.
Sightseeing trip with city tour guide in Kathmandu .
Kathmandu to Pokhara & return by regular tourist bus
Pokhara to Nayapul & return by private vehicle
Meal on full board (breakfast, lunch, dinner, tea & coffee) basis during the trek
Accommodation on teahouse/lodge during the trek
Trek leader (English speaking, First Aid and eco trained), Sherpa helper and all payments
Annapurna Conservation entry fee and permit
Down jacket and four seasonal sleeping bag
Exclusive medical kit bag
All government and local taxes.
Cost Exclusive:

Excess baggage charges
Lunch and dinner in city
Travel and rescue insurance
Personal expenses e.g. phone calls, laundry, bar bills & extra porters
Tips for driver, guides and porters.