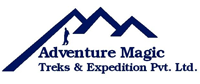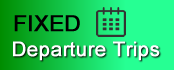 Adventure Sports

Bungee Jumping
Just imagination of jumping down from a bridge 160 meters above a tropical gorge with the Bhote Kosi, one of Nepal's wildest rivers raging below is enough to make your heartbeat run faster. And, it is the thrill of bungy jumping as it there is no fun for real adventure lover if challenge is not so hard and difficult. It is located within a reach of 4 hours outside Kathmandu and just 19 km away from the Tibet Border.

The Bungy bridge happens to be the only privately owned bridge in Nepal. It has been specially designed for bungy jumping with a 4x-safety factor and has a loading factor of 41,500 kg or 4.5 tons according to Swiss measurements.

One would have to be totally insane or suicidal twisted to jump off the remarkable 500-ft (160 m) drop into the Bhote Kosi river gorge. As the Bungy Master nicknamed Rock advises the jumpers to ensure that pockets are empty and the girls have no loose jewelry coming in the way, nervous laughter erupts from the crowd when he strongly advises against taking intoxicants just before the jump. Jumpers weights are recorded before the jump to use different cords for different categories of weights. The Green, Red and Black cords are used for the lightest, the heavier and the heavyweights accordingly. It is a perfect way of wild adventure.
Paragliding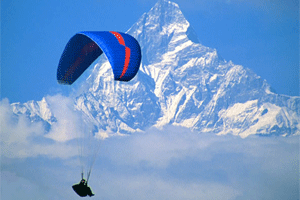 Paragliding is a relatively new adventure sport in Nepal. Paragliding in this Himalayan country can be a truly wonderful and fulfilling experience for the adventure-seekers. You can experience unparalleled scenic grandeur as you share airspace with Himalayan griffin vultures, eagles, kites, while floating over villages, monasteries, temples, lakes and jungles, with a fantastic view of the majestic Himalayas.

Gliding is a weather dependent sport and the flying season in Nepal commences from November through February, the best months being November and December. By virtue of its latitude and monsoonal climate, the tree line in Nepal is at an incredible 3,900 m above sea level. With conditions milder than summer alpine, these are excellent and constant atmospherics.

The topography and climate of Nepal also make it an ideal destination for all levels of pilots- subtropical conditions provide plenty of thermals and combined with the long valleys common in Nepal, they produce perfect 'cloud streets' ideal for paragliders, inviting them to fly along this "sky highway". The local microclimate, controlled by the numerous lakes in the valley, is unique, which makes it even better for the glider.

The main area for flying in Nepal is the Annapurna region, more specifically the Pokhara valley. This lakeside town is Nepal's second "city", nestled at the foot of the Annapurna Himal, the views commanded from here, of 3 of the worlds 8000m peaks, are unsurpassed. At an altitude of 800m ASL the subtropical climate means that, year round, it is short and T-shirt weather. The micro-climate of the valley makes it an ideal area for flying, with far more constant conditions than the Kathmandu valley 150 km east.

There are several sites around Phew Tal (the lake) but the most accessible is Sarangkot (1500m ASL). A view point 700m above Pokhara, it is unique in that it has a road running to the top. A short walk brings you to the only purpose built take off in the country. Cut out of the slope is a 45m by 45m clearing. With regular cycles providing easy reverse launches, you could not ask for a more picturesque site. With the lake 2000 ft below, the mountains behind, and the unlimited potential for XC and out and returns, this has quickly become the main site for the area, and many pilots have based themselves in Pokhara for the season, flying from this mountain alone.

There are various deals for the paragliding enthusiast as well as those checking this sport out for the first time. There is a three-day introductory course for beginners, as well as tandem flights (where you fly with an instructor) for the inexperienced or less brave. At 6000 ft, you sit back in your seat as your qualified pilot takes you on an unforgettable journey. The take-off point for these flights is Sarankot (1592 m), which offers prime views of Phewa Tal and the mountains at sunrise and sunset (provided the skies are clear); the landing is by the lake.
Mountain Flights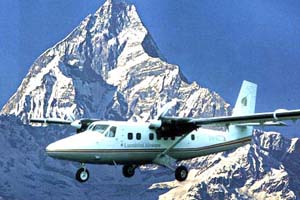 Mountain flight is a much easier way to see the Nepali Himalayan peaks. Most flights are in mornings and operate at all times except in the monsoon seasons of June and July. Air planes fly along the Himalayan range and also beyond for passengers to get a good view of the Himalayan range. All the domestic airlines of Nepal offer various forms of mountain flights.

The flight takes you within camera range of some of the highest peaks in the world, and cruising this close to the awe-inspiring massifs of rock and ice is an out-of-this world experience.

A few domestic airlines offer mountain flight from Kathmandu to see Mt. Everest. This unique experience gives visitors a quick glance at Nepal's untamed landscapes and a fly-past through the world's tallest peak.

The aircraft takes off and heads eastward and almost immediately the peaks come into view. The first peak that appears on your horizon is the majestic Gosaithan, also called Shisha Pangma, standing at a height of 8,013m. To its right appears Dorje Lhakpa (6,966m), looking like a massive figure of eight lying prone and covered in snow. To its right is Phurbi Chyachu, which looms over the Kathmandu valley.
Mountain Biking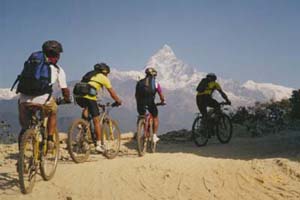 Nepal offers a challenging and pleasant scenic ride from the tropical plains of terai, mid-hills, mountainous terrain and its lush valleys to the arctic climate of the high alpine region. The only way to discover these hidden treasures and its warm ever-smiling people is on mountain bikes. Mountain biking is a great fun and a perfect way to discover Nepal's great diverse landscape, of tremendous terrain, tracks and trails. Where mountain bike takes you away from the hustle bustle of the city-town life into serene country life, on a hidden trail rarely visited area of local villages, its traditional rural life style that has preserved for centuries.

It was in the mid-1980s that biking activity really took off in Kathmandu. Enthusiasts flew with their bikes from Hong Kong to Tibet to answer the call of the wild steppes. The two-week journey from there over the passes (17,000 ft) to Nepal is what sparked it all off. Even today Kathmandu is a mecca for mountain bicyclists, as it draws thousands of enthusiasts from all corners of the world.

Scenic biking day tours: An introductory ride which takes you to explore the ancient rural villages, legendary temples and monasteries with the superb view of the Himalayas. Biking through the rural villages at the valley rim on the back trails with some ups and down hill tracks, these days biking trips give you sufficient time to immerse in its peaceful surrounding environment and make friends with the locals. The biking trips within Kathmandu Valley allows you to enjoy its hidden pockets rarely frequented by westerners which gives you a chance to see the other back side of Kathmandu. Other biking trips include City Tour with a difference biking to the famed popular historical and medieval places of Kathmandu, Bhaktapur and Patan, viewpoint of Nagarkot and Kakani, the quiet sleepy town of Sankhu and Budhanilkantha. All these interesting places seem like out of this world and yet so close to Kathmandu. Come and Bike with us from our great varied day trips for you to choose and to see the other side of Kathmandu as it was for centuries.

Kathmandu Valley Rim: A pleasant, fabulous ride takes you to the medieval civilisation in and around the vicinity of Bhaktapur, with ample time to visit and make friends with the warm, local farmers and villagers enroute. Your journey continues to the famed scenic viewpoint at Nagarkot, highest spot of our trip offers you beautiful view of the sun rise and sunset with the magnificent Himalayan back drop.

Kathmandu Valley Explorer: A great scenic ride with a visit to the best pilgrimage, and mountain view spots. This fascinating ride takes you to rarely visited area of the rural pockets in and off the Kathmandu Valley rim, biking on the off trail to tarmac road and through the rice terraces with superb views of an array of snow peaks from Annapurna to Everest range of mountains. Your wonderful five days ride concludes with a down hill delight from the panoramic mountain resorts at Nagarkot to Kathmandu.

Pokhara to Kathmandu Biking: An ultimate biking adventure off the main motorable highway. A remarkable adventure that puts you on the off road trail linking two major cities in Nepal, Pokhara and Kathmandu. Your biking trip begins from Pokhara with a short biking tour in Kathmandu before the great journey. Pokhara is an amazing place in the stunning backdrop of Mt. Annapurna and Manaslu range and famous for its placid lakes. Adventure begins from this beautiful place, less than 30 miles of this ride is on the main highway, rest of the journey is tracing an assortment of broad foot paths, old jeep trails and some technical single tracks. We make your way across remote territory that's seldom visited by westerners. Crossing the old Gorkha, we follow the traditional route that joins Kathmandu to other part of mid-western Nepal. Challenging ascents as well as some incredible descents combine to makes this special off-road biking a Great biker's dream.

Other outlying places popular with mountain bike enthusiasts are Nagarjuna, Nage Gompa, Tokha, Ichangu Narayan, Gomcha, Bungamati, Kakani, Dhulikhel and Nagarkot.

Other relatively longer mountain bike trips are those extending from: Dhulikhel to Kodari (82 km), near the Tibetan border; Naubise to Chitwan Park along the Rajpath through such as scenic places as the Palung Valley, Daman, and the not-so-scenic industrial town of Hetauda in the plains; Lakeside Pokhara up and along the ridge to Sarangkot Point, and continuing on to Naudanda from where you could take in the breathtaking close-up view of the Himalayas and the Pokhara valley; Naudanda to Pokhara through Lumle, Beni and Birethanti, or Naudanda to Pokhara (32 km) either via Sarangkot trail described in d) or the highway track, which starts with a twisting 6 km descent into Modi Khola valley.
Cable Cars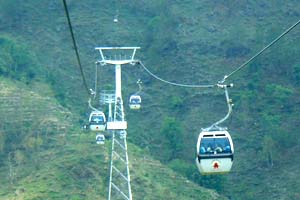 You don't have to be in Switzerland to ride on cable cars. Unlike in the West, the cable car in Nepal takes you up to the abode of Manakamana, the Wish-Fulfilling Goddess, on what you could call a spiritual ride. Legend has it that Manakamana fulfills all wishes. This belief is so ingrained in the collective conciousness of the Nepalis that many make a trip to Manakamana every year without fail. Stories abound of people's wishes coming true: lost sons returning home, lovers finding romance against all odds, people finding success in their business ventures, students excelling in their exams, separated husband and wife getting back together, and on and on. Even if you have no wishes to make (assuming that you have got it all, which means you have no need of Manakamana's blessings) or even if you are an atheist or agnostic, this place offers you a unique look into Nepali people's faith in Goddess Manakamana. Also you could look at the river valleys and the Himalayas from here. Or just explore the hamlets downhill.

Situated atop a hill (1302 m) 12 km south of the historic town of Gorkha and 6 km north of Mugling, the Manakama temple overlooks terraced fields, and the Trisuli and Marsyangdi river valleys. The hilltop also offers a vantage point for taking in the breath-taking view of the Manaslu-Himanchuli and Annapurna massifs to the north.
Boating & Fishing
Boating
Nepal provides some fine opportunities for boating. These range from the glacier-fed lakes up North and down to where the laden rivers ease into the plains of the Terai. Pokhara's Phewa Lake is the most popular destination for travelers wanting to indulge in recreational boating. It is the second largest lake in the kingdom and measures roughly 1.5 by 4 km. Its eastern shore, also known as Lakeside or Baidam, is the center of tourist activity in Pokhara.

Begnas and Rupa Tal are located 15 km out of Pokhara at the end of a road that turns off the Kathmandu highway. Both these lakes offer some splendid boating opportunities. Phewa, Begnas and Rupa Lakes were all part of the body of water that once filled the Pokhara valley.

Renting a boat for a couple of hours and heading out to the middle or the other side of the lake bordering the forested hill, and taking a swim, can be the highlight of a warm day. The water is cleaner out far from the buffalo and washing on the edge. Boats can also be had for the whole day, or on an hourly basis. You can either row around yourself or hire a boatman, the former being definitely a better option.

At Phewa, tourists have a choice of pedal-driven boats (which are basically fashioned out of two regular rowboats joined together by placing planks over them and providing space in the middle where the pedals are located), rowboats and sailboats. The latter are a recent development but definitely worth the money when there is a good breeze around. There is also a choice between fiber body sailboats and wooden ones.

Fishing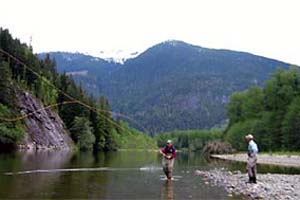 Sport fishing, like hunting, is little advertised and therefore little known in Nepal. However, for the angling enthusiast, Nepal's lakes and rivers can prove good fishing grounds. There are approximately 118 varieties of fresh-water fish in these Himalayan waters, ranging from the much sought after Mahseer to the mountain stream trout-like varieties. The best season to go sport fishing on white waters is before and after the monsoon from February till April and October and November. During these times the fishes go upstream to spawn and they consume less food. But locals catch a lot of fish during monsoon as well for their livelihood.

Some of the popular fishing trips are done in Karnali, Babai valley in the Bardiya National Park. Chitwan also hosts a number of places like the confluence of Seti and Trisuli on the Tribhuvan Highway and also in the confluence of Kaligandaki and Trisuli river. Anglers can try their luck in the clear waters of Pokhara's lakes as well. While Phewa Tal offers some good sport, there is considerable activity and is not the ideal place for a quiet day's fishing. Begnas Tal and Rupa Tal are a better bet. Get out there on any of several local buses that start plying early morning or bike your way there. You can hire a boat and go out to some of the good spots in the lake.

Fishing is also fun in many of the mountain streams. There are varieties of trout-like fish or even rainbow trouts and common trouts that can provide good sport. Recently the Fishery Department has released 4000 fingerlings in the Modi river, near Pokhara. There are agencies in Kathmandu that organise fishing trips to streams around the Kathmandu valley.

Dolalghat, east of the valley on the Kodari Highway, is easily accessible from the city - a bus ride from the Old Bus Park in Ratna Park early morning and back through the local buses by evening. You can encounter Nepali holidaymakers and the locals on the lookout for local variety of Asla and Katla, the former a kind of trout and the latter a carp. You could bring some flies along and try your luck. Some of the dams across Nepal's many rivers too have a good stock of fish.