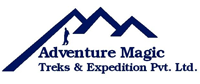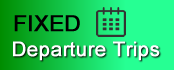 Dhaulagiri Trekking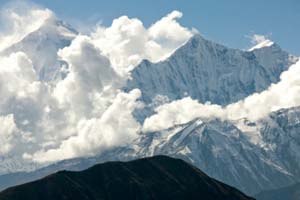 Dhaulagiri trekking is one of the challenging adventurous trek in the world,the seventh highest mountain in the universe.

Its name means "white Mountain": towering in solitary splendour, this magnificent peak rises as a giant shoulder of shining ice and snow. Dhaulagiri is rarely visited and the valleys and villages surrounding it are unspoiled and unchanged .Our trek takes us across the kali Gandaki River and then north into the heart of the massif; from the base camp we come to the high point of our trek, the traverse of French Pass(5,360 m), the hidden Valley and Dhampus Pass (5182 m), a high level; route which brings us back to the upeer Kali Gandaki Valley in Jomshom. From here we, either, fly back to Kathmandu via Pokhara or we can continue from Jomsom till Birerthaqnti to Pokhara.
Day to Day Itinerary for Dhaulagiri Trekking
Day 01 :Arrival day in Kathmandu (1,300m/4,264 ft)
Welcome to Himalayan country of Nepal. Upon your arrival at the Tribhuvan intl. airport our representative welcomes you and assists to transfer in your hotel in Kathmandu. After time to get refreshed, evening you'll meet and transfer for welcome dinner in one of the typical Nepalese restaurant in the heart of Kathmandu and briefing about your trip and overnight at Hotel.
Day 02: Kathmandu valley sightseeing & trek preparation (1,300m/4,264 ft)
Today, morning we will ready after your breakfast to head on for our guided day trip to world heritage sites in Kathmandu valley and visit the highlights of Kathmandu and the surrounding areas. We take you to visit the pilgrimage sites of Hindus temple Pashupatinath, one of the most important shrine of Shiva temples on the subcontinent which is place of thousand of devotees, Saddhus (holy men/Baba), and can be seen the cremating body most of the times in the holy riverbank of Bagmati. Hundreds of monkeys are giggling with you and take a time to exploring surrounding area and visit Bouddhanath stupa an another pilgrimage centre which is most popular and important place for Buddhist. You can explore with rounding prayer wheel and flattering colorful flag with melodious chanting noise. After your lunch at Bouddha visit Swoyambhunath stupa also known as monkey temple covering wide range of area with highest point of Kathmandu valley and enjoy the 360 degrees of valley view. After exploring the surrounding areas visit to Kathmandu Durbar Square which is old royal palace of Kathmandu and can be seen lot of temple, architectures and Kumari (living goddess) and walk in a freak street and late afternoon back to hotel and evening briefing about your trip briffing after relax at the hotel.
Day 03: Fly from Kathmandu to Pokhara and drive to Beni (671m/2,200ft), 20 minutes flight and 4-5 hrs drive
Today, we'll transfer to airport for morning flight to Pokhara takes 20 minutes fly and upon arrival guide will receive you and take a bus drive to Beni takes 4-5 hrs drive and overnight at camp.
Day 04: Beni to Babi Chaur (853m/2,798ft), 5-6 hr walk
Today, we will start our adventure towards Babi Chaur. After walking for about 5 - 6 hours through steep upward trail and bank of the Myagdi River, we'll reach at Babi Chaur a small village where one can find the mixed inhabitants. We'll spend the night at Babi Chaur at our own camp.
Day 05:Babi Chaur to Dharapani (1,400m/4,592ft), 5-6 hr walk
Today we walk for about 2 - 3 hours through steep upward trail to reach Darbang where we take the lunch and later after crossing the Myagdi River we walk again for 3 - 4 hours more to reach Dharapani, where we spend the night. One can witness the Dhaulagiri 1, 2, and 3 from here. Enjoy your evening on tented camp.
Day 06: Dharapani to Muri (1,850m/6,068ft), 5-6 hr walk
After the breakfast we walk for about 5 - 6 hours, through steep upward and downward trails and crossing various small villages, reach to Muri, where we spend the night. Muri is a nice village from where one can see the beautiful view of mountains and overnight at camp.
Day 07: Muri to Bagar (2,080m/6,822ft), 5-6 hr walk
We start continues our walk through flat land and steep up and down hill and the forested path for about 5 - 6 hours and lastly we reach to a village called Bagar where we will stay tonight at our camp and this village is the last village on this trail before cross.
Day 08: Bagar to Dobang (2500m/8,200ft), 5-6 hrs walk
This morning we'll start our trek further to Dobang descend through the scenic landscapes and forested path but can not get any peaks view this day but during the walk on the trail we can have the view of beautiful landscape and after walking for about 5 - 6 hours through the forest to Jyardan and after here climb high winding path & rocky area, we descends and climb to Lapche Kharka then further climb we'll reach at Dobang, where we stay overnight at camp.
Day 09:Dobang to Italian Base Camp (3,660m/12,005ft), 6-7 hr walk
Today we'll walk through the dense forest and the river banks for about 6-7 hours and we reach to Italian Base Camp where we spend the night. Once, when during an adverse weather, a group of Italian people, who were heading towards the base camp has to camp at this place and they were the first trekkers who pitched the camp at that place and since then, it is being known as Italian base camp and overnight at tent.
Day 10:Acclimatization day (3,660m/12,005ft)
Today, we'll have full day at rest and relax at the camp. You may have chances to explore the surrounding areas and enjoy the view and overnight at tented camp.
Day 11: Italian base camp to Dhaulagiri base camp (4,750m/15,580ft), 6-7 hr walk
We trek through the snowy and long trail to get to Dhaulagiri base camp. This is most difficulty path but breath taking view and climbing up to the camp. It takes 6-7 hrs journeys and can be feel short breath to reach at base camp. We can sighted Tukche Peak (6837 m.) becomes visible straight on; at the far end while the impressive north flank of Dhaulagiri I (8167 m.) dominates the skyline to your right. After a short while you will reach Dhaulagiri Base Camp (3660 m), which is also the site of your camp for the night. To the west are the peaks of Dhaulagiri II (7751m), Dhaulagiri III (7715 m) and Dhaulagiri V (7618 m). We will enjoy the night at tented camp.
Day 12: Dhaulagiri base camp to French Col (5,360m/17,581ft), 5-6 hr walk
Today we'll walk on the snowy trail takes 5-6 hrs to get to French Col from here we can see the Mt. Dhaulagiri including the massif ranges of Annapurna as well. You can enjoy the scenic view of Dhaulagiri and down to camp site 5,050 meters for the overnight.
Day 13:Acclimatization at camp (5,050m/16564ft)
You will have full day to relax and rest at French Col and enjoy the scenic view of high mountains and overnight at camp.
Day 14: Camp to Dhampus Pass (5,230m/17,155ft) to Yak Kharka (3,680m12, 070ft), 6-7 hr walk
We'll start our hard day to cross the pass through the snowy trails walk on your own pace and slowly get to the top. After the summit trek down to the Yak Kharka and it takes on total 6-7 hrs walking time and enjoy the magnificent view of the mountain and landscape.
Day 15: Yak Kharka to Tukuche (2550m/8,364ft), 5 hrs walk
Today we walk for about 2 hours through the plane trail and after crossing plain trail we walk for about 3-4 hours more through steep downwards to reach at Tukuche village where we spend the night. This place is settled on bank of Kaligandaki River and village of Thakali inhabitant. Also famous for home made apple brandy and garden of apple where we'll stay overnight at our campsite.
Day 16: Tukuche to Ghasa (2,120m/6,955ft), 4-5 hrs walk
Today we start our trek with scenery of Mountain and follow the down stream to Kaligandaki River. This is close beneath the Tukuche peak and Dhaulagiri with spectacular views of Mt. Nilgiri's and the massif icefalls which tumbles from the Dhaualgiri's east face, continuing trek down to Kalolpani village for lunch, and this is another lovely village of more than 30 houses with excellent tea houses and lodge with grandeur view of Mt.Annapurna I, Nilgiri's and Dhaulagiri above the beautiful pine forest. After 2 hrs easy downhill brings you long settled Thakali village for overnight at camp.
Day 17:Ghasa to Tatopani (1,200m/3937ft), 4-5 hrs walk
The route dramatically changes the vegetation, from dry, arid desert to pine and conifer forests, as we pass between two giant peaks of Dhaulagiri and the Annapurna's. From Ghasa the southern end of the area dominated by Thakali people with fewer of this ethnic tribe till Tatopani, the architectural style change, with much ornately carved wood work in evidence. This pleasant walk amidst the beautiful surrounding continues back to the terraced paddy fields and into warm sub-tropical climate all the way to the village of Tatopani passing through the beautiful waterfalls of Rupse waterfall. We come down through Dana village (the deepest gorge of the world) and after lunch onwards couple of hour to get to Tatopani for natural hot spring bath. Explore the local place and overnight at camp.
Day 18:Relaxing day at hot spring.
Today, we a full day relaxing at hot bath and after long day at Himalaya enjoy your day with Nepalese lifestyle and explore surrounding village, read your book or play pool. It's depends on your interest you have full free to do your own and overnight stay at camp.
Day 19:Tatopani to Ghorepani (2,850m/9,350ft), 6-7 hrs walk
Spending wonderful day at hot spring we trek down before crossing a suspension bridge over the Kaligandaki river, the path leads by the river for a while just arriving at the junction of the two trails, the other wide path follows the river all the way to Beni. We diverts from here taking the left uphill climb, the first of the climb is quite steep to the top, and continue with farms and villages, from this spot a gradual climb leads us most of the day, leaving behind the terraced fields walking in the dense rhododendron forests and reaching at Ghorepani for the overnight at tented camp. This is a great place for mountain scenery and Kaligandaki valley.
Day 20:Pun hill hike and trek to Tadapani (2,710m/8,891ft), 6-7 hrs walk
As briefing yesterday evening, we hike to early morning for 40 minutes up to Pun hill and en-route offering the glimpse of aurora walking through the pleasant rhododendron forest. Pun hill named after the hill tribe Pun, inhabitants of Ghorepani/Shikha village. This is wide range of panoramic scenery from the far western Himalaya of Dolpo, Mt. Dhaulagiri, and Annapurna including Mt. Machhapuchre (Fish Tail) and all the way to Manasalu Himalayan range. It is picturesque Himalayan scenery and good memorable moments spending an hour to the top. After a great time return back to Ghorepani for breakfast and continue trek to onward destination, the walk passes through the Rhododendron, Pine and fur forest with up and downs hill and finally you will reaches at Tadapani for overnight at tent. This is a great place surrounding by rhododendron forest with closest view of Mt. Fish Tail.
Day 21: Tadapani to Ghandruk (1,990m/6,529ft), 3-4 hrs walk
Today, we have short and pleasant walking day through the forested path. The trail leads us is on gradual downhill path most of the way with occasional view of the Mountain. The trail enters an unusual and cool forest of moss-hung oak and rhododendron for an hour to Bhaise-Kharka a small place with couple of teahouses amidst the woods. A steep descend leads us through the slippery small fast flowing creeks and streams, after the steep portion the walk gets better on the gradual path most of the way for another hour or more to Ghandrung village for lunch and overnight stop. This is heavily settled Gurung village, a modern village of Nepal and explore the surrounding area and simply relax at the tented camp.
Day 22:Ghandruk to Pokhara (823m/2,700ft), 5 hrs walk & 1 hrs drive
This is our last day walk after long trek and immersing yourself to finish quickly this day. Trek leads through the scenic landscapes and local villages to get down to the Syalui bazzar settled in river bank of Modi. Further an easy path reaches at Birethanthi for lunch, where is the confluence of Modi and Bhurungdi River. After half an hour flat walk will reach at Nayapul. Our trek ends here and drives back to Pokhara lakeside for the overnight stop. Remaining time explore the surrounding lake side area and simply relax at the heart of Lake Town.
Day 23: Drive from Pokhara to Kathmandu (1,300m/4,264 ft), 7-8 hrs drive
Morning we'll drive back through the scenic countryside and en route will stop for breakfast & lunch. It takes 7 hours back to Kathmandu. On arrival at Kathmandu guide will transfer to the hotel and rest of the day relax or explore the surrounding areas and overnight at hotel.
Day 24: Leisure at Kathmandu
This pleasant day you may have full day at leisure and either relax at hotel or explore the Thamel and overnight at hotel.
Day 25:Departure from Kathmandu
Today is free or last minute shopping for souvenirs or gift to your family, friends or relatives for you until your departure flight/drive or to commence any extra trips or activities you may have booked with us. If departing, you'll be transferred to the International Airport for your departure flight to your onwards destination.
Cost Inclusive for Dhaulagiri Trekking:
Airport arrival and departure by private vehicle
Deluxe twin sharing accommodation in Kathmandu with breakfast
Sightseeing trip with city tour guide in Kathmandu.
All local transportation.
Tourist bust to beni and fly back from jomsom to pokhara/kathmandu.
Full board meal(breakfast, lunch, dinner, tea & coffee) in during the trek
Comfortable tent accommodation during the trek
Trek leader (English speaking, First Aid and eco trained), Sherpa helper, and all payments
Dhaulagiri entry fee and necessary permits
Down jacket and four seasonal sleeping bag
Exclusive medical kit bag
All government and local taxes.
Cost Exclusive for Dhaulagiri Trekking:
Departure taxes
Lunch and dinner in city
Travel and rescue insurance
Personal expenses e.g. phone calls, laundry, bar bills & extra porters
Tips for driver,guides and porters.