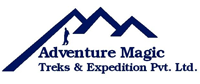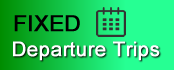 Upper Mustang Trekking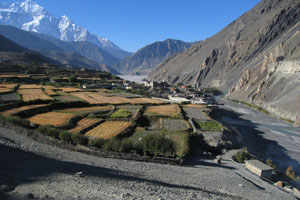 Mustang Trekking region is lying behind the main mountain in the rain shadow area.Mustang just out into the plateau,north of Jomsom and Pokhara. In the capital of Lomanthang an old walled town, undisturbed and untouched civilisation life goes on as it has for centuries. The numerous Gompas and prayers flags performing their eternal ritual. A trip into Upper Mustang is bound to be one of self-realisation inspired by the all-encompassing teaching of Tibetan Buddhism.

Upper mustang is old,tiny kingdom,the Nepalese have imposed a surcharge for anyone wishing to trek past Kagbeni, the border of Upper Mustang. With legal trekking groups only being allowed in for the first time in March 1992, you would be part of a small privileged minority to visit this remote outpost of Nepal. Mustang is the old kingdom of Lo. Actually the capital of the Mustang district is Jomsom, but the real Tibetan-style district lies north of Kagbeni and is usually referred to as Upper Mustang. The real capital, Lo Manthang, where the present king lives, is a fantastic square-walled town sitting on the 'Plain of Prayers'.Upper Mustang has an average elevation of 13,200ft/4,023m and is located to the north of the mountain giants of Dhaulagiri and Annapurna and is therefore north of the main Himalayan range and geographically is part of the highlands of Tibet. It is a vast high arid valley, characterised by eroded canyons,colourful stratified rock formations and has a barren, desert like appearance.17 days time is the perfect time to complit upper mustang trekking.May,June,july,september are the best time for upper musang trekking.Upper mustang trekking starts by senic flight from pokhara to Jomsom.no doubt upper mustang trekking gives you an unique,memorable unforgetable experience of remote village.These days tea house trek can be done in upper mustang.
Day to Day Itinerary for Upper Mustang Trekking
Day 01: Arrival day in Kathmandu (1,300m/4,264 ft)
Upon your arrival at the Tribhuvan intl. airport our representative welcomes you and assists to transfer in your hotel in Kathmandu. At the evening you'll transfer for welcome dinner in one of the typical Nepalese restaurant with the cultural & musical programs in the heart of Kathmandu and briefing about your trip and overnight at Hotel.
Day 02: Kathmandu valley sightseeing & upper mustang trek preparation (1,300m/4,264 ft)
After breakfast the day will start to our guided trip to cultural world heritage sites in Kathmandu valley; including visits to the pilgrimage sites of Hindus Pashupatinath temple, the world biggest Bouddhanath Stupa, visit Swoyambhunath Stupa also known as monkey temple and historical Kathmandu Durbar Square with temple, unique architectures and Kumari (living goddess) in central Kathmandu. Evening pre-trip discussion and introduce with our fellow trekking staff for your adventure trip.
Day 03:Drive from Kathmandu to Pokhara valley (823m/2,700ft), 7-8 hrs drive
Early morning drive by tourist bus to Pokhara through the beautiful Nepalese countryside to reach the Pokhara lakeside and transfer to the hotel and rest of the time explore the surrounding lakeside areas and overnight at hotel.
Day 04: Pokhara-Jomsom to Kagbeni (2,858/9,374ft), 3-4 hrs walk
After breakfast morning flight to Jomsom, a super scenic flight of 20 minutes brings you at Jomsom, the district headquarter of Mustang. From Jomsom our trek continues on the gradual & windy path on the Kali Gandaki river bed for about 3 hrs and finally reaching at Ekley-bhatti village. After good stop here an hour of easy walk reaches you to Kagbeni, which lies at the bank of two rivers. Kagbeni, an interesting wind swept villages situated on the main age old Trans himalayan salt trade route to Tibet via Upper Mustang area.
Day 05: Kagbeni to chele (3050m/10,004ft), 5-6 hrs walk
Your upper mustang journey starts with a special permit check up and onwards to the riverbank of Kaligandaki up stream.We enter upper Mustang and follow the east bank of the river over a series of small ridges. Across the river we can see Kang Gompa, a centre of the Nyingmapa sect. Approaching Tangbe we encounter the distinctive black, red and white chortens that typify upper Mustang. The town of white washed houses contains an intriguing pattern of alleyways and is surrounded by fields of wheat, barley and buckwheat, interspersed with small apple orchards. We cross to the east bank of the river and ascend to the village of Chele. Immediately, the strong influence of Tibetan culture of Lo is evident with the decoration of the houses.
Day 06:Chele to Syanbochen, (3475m/11,398ft), 6-7 hrs walk
The trail today is characterized by the crossing of a series of large spurs. Our trek wins to Taklam La Pass (3,624m/11,923 ft) through plateaus and narrow stretches with views of Tilicho Peak, Yakawa Kang, Nilgiri and Damodar Danda. Further walk around 3 hrs will reach you at Syanbochen for the overnight. The valleys that dissect the trail have cool streams and juniper trees to enable us to relax for a while. These altitudes should not present any acclimatization issues, so we just take our time and enjoy the walk.
Day 07:Syanbochen to Ghaymi (3520m/11,546ft), 5-6 hrs walk
After breakfast we trek uphill to the Yamda La (3,850m /12,667ft) and passing few teahouses, chorten and local villages which is like Tibetan style of houses with open Varanda, and crosses over a few other passes. Avenues of poplar trees and fields of barley mark our trail as we head to Nyi La (4,010m/13,193ft). Nyi Pass is the highest point of the trek thus far and the southern boundary of Lo, we descend to our overnight stop at Ghaymi.
Day 08:Ghaymi to Charang (3500m/11,480ft), 4-5 hrs walk
We start our trek after breakfast with a pleasant walk and easily get to the Charang for the overnight. We descend to the Ghaymi Khola and pass a spectacular series of Mani walls (Secret stone wall of the Buddhism) to the village of Charang with its huge white dzong and red Gompa.
Day 09:Charang to Lo-Mangthang (3700m/12,136ft), 5-6 hrs walk
We leave the Charang Khola and climb the ridge to 3,850m/12628ft windy pass of Lo, for our first view of the walled city of Lo Manthang. The trail drops to a stream and then climbs onto the plateau where the city is situated. The only gate is in the north east corner and we make our way to the entrance. The white washed walls enclose around 150 homes, Gompas and a palace. We stay at teahouse and rest of the time explores the surrounding area.
Day 10: Explore the Lo-Mangthang
We have allowed full day to explore this outstanding historical and cultural centre. There are 4 major Gompas to visit during our stay. The palace is the home of the raja (King) and his rani (queen) is the attraction as well as the surrounding panoramic views of the Himalaya. Although the raja's function is now primarily ceremonial he is seen as a person who can help people resolve local issues. The town itself is fascinating, and offers countless opportunities to observe a vibrant Tibetan culture. There are many places to explore and manage your time to explore the places. Every monastery requires the donations and entry fees which is made by your own.Lomangtang is the main attraction of upper mustang so far.
Day 11:Lo-Mangthang to Ghar Gumpa, 4-5 hrs walk
After a wonderful time at Lo-Mangthang reluctantly we depart to Ghar Gumpa which is also interesting place to explore the local area. Climbing the ridge, we get our last view of the walled city and descend the valley towards Ghar Gompa. During the walk you'll suffer the dusty wind and as suggested to walk in the morning.
Day 12:Ghar Gumpa to Ghiling (3806m/12,484ft), 5-6 hrs walk
Today, we continue down the valley to Ghiling as our journey for our overnight stay. Explore the area but it will be dusty better to walk in evening time.
Day 13: Ghiling to Chele (3050m/10,004ft), 5-6 hrs walk
We re-track back to Ghiling for the overnight stop after 5 hrs walk. You will have wonderful scenery during the journey with a Himalayan view. Enjoy your trip and overnight at teahouse.
Day 14:Chele to Jomsom (2700/8,856ft), 6-7 hrs walk
This will be our last day trek as well as long. After a morning walk we reach Kagbeni, finished the upper Mustang trails and join to the normal as Annapurna circuit trek. Tonight we will celebrate the achievements of the trek with the crew and reflect on our journey.
Day 15: Fly from Jomsom to Pokhara
This wonderful morning, after breakfast we check in the airport to fly back to Pokhara. This is a dramatic flight between gorge of the two huge mountains Annapurna and Dhaulagiri. On arrival at Pokhara airport guide will transfer to the lakeside hotel. Rest of the time explores the lake and overnight at hotel.
Day 16: Drive from Pokhara to Kathmandu, 7-8 hrs drive
Morning we'll drive back through the scenic countryside and en route will stop for breakfast & lunch. It takes 7 hours back to Kathmandu. On arrival at Kathmandu guide will transfer to the hotel and rest of the day relax or explore the surrounding areas and overnight at hotel.
Day 17: Departure from Kathmandu
Today is free or last minute shopping for souvenirs or gift to your family, friends or relatives for you until your departure flight/drive or to commence any extra trips or activities you may have booked with us. If departing, you'll be transferred to the International Airport for your departure flight to your onwards destination.
Cost Inclusive for Upper Mustang Trekking:

Airport arrival and departure by private vehicle
Deluxe twin sharing accommodation in Kathmandu with breakfast
Sightseeing trip with city tour guide in Kathmandu .
All local transportation.
Tourist bus pokhara, both way flight to jomsom and return from pokhara to kathmandu by tourist bus.
Full board meal (breakfast,lunch,dinner, tea & coffee) in during the trek
Comfortable Camping tent and local lodges if you need.
Trek leader (English speaking,First Aid and eco trained), Sherpa helper, and all payments
Upper Mustang entry fee and necessary permits
Down jacket and four seasonal sleeping bag
Exclusive medical kit bag
All government and local taxes for upper mustang trip.
Cost Exclusive for Upper Mustang Treking:
Departure taxes
Lunch and dinner in city
Travel and rescue insurance
Personal expenses e.g. phone calls, laundry, bar bills & extra porters
Tips for driver, guides and porters