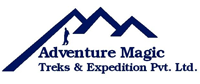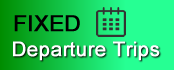 Mera Peak Via Amphu Lapcha Pass Trekking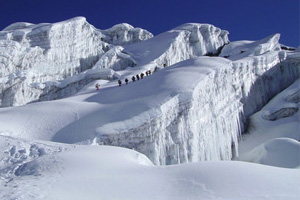 Mera peak climbing & Amphu lapcha pass trekking Amphu lapcha pass trekking including Mera peak climbing is the challenging adventure trekking trip in Khumbu region. Since Amphu lapcha pass trekking trail has been open Adventure Magic Treks & Expedition operate numerous trekker / mountaineers with memorable experience in Himalayas. Mera peak climbing and Amphu lapcha pass trekking required the use of technical climbing equipment and trekkers must be skilled in the use of this and be prepared. Mera peak climbing and Amphu lapcha pass trekking holds the views of Himalayas and hearty scenery of lakes Hongu valley. Mera peak 6421m is highest trekking peak in Nepal and island peak is one of the popular trekking in Everest region. Mera peak climbing and Amphu lapacha pass trekking offers superb Himalayan scenery including the Mt. Everest, Mt. Lhotse, Mt. Nuptse , Mt. Amadablam , Mt. Makalu , Mt. Baruntse , Mt. Thamserku, Mt. Kusum Khangaru and other Nepal trekking peak.

After a spectacular mountain flight from Kathmandu, our trek will begin by heading southeast from Lukla or Kathmandu by bus drive to Jiri if trekkers/ climbers has long holiday duration for Nepal Himalaya. We will walk along a high rocky ridge through dense forests and across several streams before reaching the pass that will take us from the Khumbu into the Hinku Valley. Trekking and camping in this wild land of abundant rhododendron and Himalayan pine forests is indeed an impressive experience. At Tangnag, we will rest and explore the huge moraine and the beautiful glacial lake north of the village. We will have the option to climb Mera Peak, first climbed in May 1953. We will continue north through the uninhabited Hunku Valley with constant views of magnificent mountains. After several days camping beside the lovely lakes Dudh and Panch Pokhare we'll climb over Amphu Lapcha (5778m). We will make our way to Dingboche, then Lobuche and along the moraine to the base of Kalapater (5544m). You will have the option of climbing this "Black Rock"- Kala pattar for a panoramic view of some of the world's highest mountains. As we make our way back to Lukla via Namche Bazaar and Phakding, you will have completed one of the more demanding trekking routes in Nepal.


Day to Day Itinerary for Mera Peak Via Amphu Lapcha Pass:
Day 01: Arrival day in Kathmandu (1,300m/4,264 ft)
At the airport you will be met by our representative and transferred to the Hotel & briefing about your trip then welcome dinner in Nepali restaurent when you could get joy of Nepali typical food with cultural dance show.

Day 02: Sightseeing tour in Kathmandu & trip preparation day
This morning final gear checks will be held and afterwards we will depart for sightseeing tour. You will take to the key attractions in Kathmandu at the pilgrimage sites of Hindus temple Pashupatinath, the world biggest Bouddhanath Stupa and visit Swyambhunath Stupa also known as monkey temple. After exploring the surrounding areas visit historical Kathmandu Durbar Square with temple, unique architectures and Kumari (living goddess). Evening pre-trip discussion and introduce with our fellow trekking staff for your adventure trip.

Day 03: Fly to Lukla (2800m/9184ft) & commence trekking to Puiyan (2800m/9184ft)
We will be taken to the airport for one of the great flights of the Himalaya. If the sky is clear during our flight, we will get our first views of Everest and the region in which we will be climbing. The Twin Otter aircraft will take us to the hillside village of Lukla, which is the start of our trek to Mera. Here we will meet our camp staff and porters and set off straight away for our first camp at Puiyan.

Day 04: Trek to Pangkongma (2,850m/9348ft), 4-5 hrs walk
After breakfast cross the Poyan Khola, then we turn off the main trade route coming up from the south and join an older route, which climbs steeply to the ridge-line overlooking the Khare Khola. Descending the other side of the ridge, we then contour along the hillside before climbing steadily up to the attractive farming and trading village of Pangkongma. Many expedition members have been made welcome by the villagers here, spending several pleasant hours warming themselves in front of an open fire in the enveloping and welcoming atmosphere of the local's traditional Sherpa homes.

Day 05: Trek to Nashing Dingma (2600m/8528ft), 5-6 hrs walk
Today we climb the half hour or so to the Pangum La (3175m/10410ft) and our gateway toward the Hinku Valley, and now start to head eastward and then in a northerly direction. Today is a solid descent to the Hinku River of at least 900 meters depending on which path we take, and then a climb up to our camp high on the other side near the Surke La. We are once again traveling through a mix of terraced slopes containing grain crops interspersed by undisturbed forests of the upper temperate zone; maples, rhododendrons and fir.

Day 06: Trek to Chalem Kharka (3600m/11808ft), 5-6 hrs walk
After breakfast we climb up to the Source La (3085m/10118ft) we now follow the spine of the Surkie Danda ridge northwards towards Mera and the Hinku and camp part way along at a yak herders clearing or kharka. These next few days are far from teahouse and trekkers trails and should be some of the finest Himalayan wilderness trekking of the trip.

Day 07: Trek to Chunbu Kharka (4200m/13776ft), 5-6 hrs walk
Continuing along the ridge, we climb higher and higher over knolls (lumps in the ridge) of 4000 meters and then 4500 meters. The terrain has now elevated well above the tree line and is grassy slopes and rocky outcrops and cliffs, where birds of prey may be seen flying overhead such as Griffon vulture, lammergeyer or eagles. We then descend to a camp set near a series of five lakes, Panch Pokhari, set beside the river of the Chunbu Kharka.

Day 08: Rest day at Chunbu Kharka
Today is a rest day and a lovely natural setting to explore further.

Day 09: Trek to Hinku valley camp (3600m/11808ft), 5-6 hrs walk
Our route now contours around many ridges on the eastern side of the Hinku, descending lower into forests of rhododendron. Near the valley floor we encounter the devastation caused by a natural damn at the head of the valley bursting in 1998. The valley has been destroyed, leaving boulders, dead trees and silt where once there were old growth forests and meadows. Our campsite is on a pleasant grassy patch, on the now much higher bank of the rocky riverbed.

Day 10 & 11: Trek to Tagnag (4400m/14432ft), 5-7 hrs walk
Today we are now in the Hinku Valley proper, and cross over by way of a yak herder's bridge and join the main trail. The first settlement we stay at the busy village of Kote, primarily servicing the trekking groups that come through for Mera. As a result of the tremendous washout of boulders and debris, the trail follows the riverbed mostly, a good trail among rounded stones and silt. We gain our first views of dramatic peaks of the valley; Kusum Kanguru to our left that stands directly before us. The path then weaves up on to the pastures on the left hand side and pleasant easy trails through to Tagnag. Today we also enjoy our first views of Mera, initially at the confluence of the Sanu Drangka above Kote, if the weather is clear we see the dramatic south face, and then on our final approach into Tagnag. We are now among mountains and starting to prepare for our climb.

Day 12: Trek to Khare (4,940m/16203ft), 3-4 hrs walk
Today we can experience an excellent valley opening out views to the north of the Hinku Nup glacier and the line of peaks beyond. Behind us is the dramatic spire of the less than romantically named 'Peak 35', which has yet to be climbed. Only the last section up to our base camp at Khare is steep and reminds us that we are gaining altitude. It's a short climb and we are there in good time for lunch.

Day 13: Trek to Mera Base Camp (5000m/16400ft), 3-4 hrs walk
A steady climb out of the valley and up through lateral moraine and grassy culverts to our last camp below the snowline. The route itself is fairly straightforward, there are objective hazards and good basic technique and awareness of changing conditions is vital for every individual.

Day 14,15 & 16: Summit attempt on Mera (6,476m/21,247ft), 5-9 hrs walk
These three days going to plan and the weather on our side, we would move up to a rock and glaciated camp just off the Mera La saddle at approx 5400m/17712ft. Plastic mountaineering boots are usually worn from base through to the summit bid and return. Whilst they feel clumsy they are perfect for the job, providing warmth, protection and stability for the variable terrain including loose rocks, snow and ice. Another camp is set half way up the long North Slope of the mountain, at about 5700m/18696ft near a rock knob. Although it is a shorter distance here, it can be difficult in poor conditions and you are at altitude and are harder and further than it first appears. The summit bid will be made early in the morning (anywhere from 2am to 5am) from this high camp, and take around 4 to 6 hours to make the summit. Whilst the distance doesn't look far, we can assure you it will be hard work, and all the preparations and a positive, tempered attitude will pay off here. It is usually necessary to rope up for much of the summit approach due to crevasse hazards along the route. The route can vary depending on the conditions of the season but usually skirts around a major shoulder in front of us to the back side of the mountain and then traverse in a fairly straightforward approach to the summit knob. As the light comes, we enjoy incredible views across to Baruntse (7129m), Chamlang (7319m) and Nau Lekh (6360m) with Makalu (8481m) looming behind. Further to our left is Everest, peaking over several unnamed peaks of the Hinku. To the south we can see for miles down to the terrain. We aim to make the summit early/mid-morning and return to base camp after summit. The exact schedule will depend on many factors, including the weather, condition of the route and condition of the members. Our contingency of equipment and experienced staff and a time buffer, gives us a fair amount of flexibility to achieve success for all who have worked hard and consistently from the beginning of the expedition. The day will be long, and this is where all the training beforehand, the trek approach, and the right attitude will combine to give you stamina and confidence to be part of a sound team, with optimum chances for the summit.

Day 17 & 18: Commence trek into the Hunku Valley, 5-7 hrs walk
We will need to make a relatively early start today. Once our porters are organized we will commence our most remote stages of the expedition. We descend into the Honku valley near to five large glacial lakes which sprawl out before us. They are known as Panch Pokhari (five lakes). The Amphu Laptsa pass is situated immediately at the head of the valley to our right and is basically the low point on the ridge between the Hunku and the Imja valleys. For this day or so we are in the Hunku. A new vista of peaks span out before us including Ama Dablam to the distant westward, and many unnamed peaks. Camp is set close to the rocks that lead up to the pass. On these stages we ask that members be flexible and co-operative. Camps will be set where conditions allow, and your leader will keep you advised as to each days plan.

Day 19: Rest day at Amphu Laptsa base camp
Final preparations and gear checks for our pass crossing Amphu Laptsa.

Day 20 & 21: Cross Amphu Laptsa (5845m/19171ft) to Island Peak Base Camp (5100m/16728ft), 8-9 hrs walk
After early breakfast an alpine start for our pass crossing. Once again, ferrying across all our loads together with all party members, crew, porters and members takes time. The approach to the pass from the Hunku is deceptive. Facing east and southward there is much more sun and little snow, just a collection of rocks that gradually lead up to the gap we travel through. On the north facing side we find steep slopes of snow that we must take care to descend by fixed ropes to the snow basins below and subsequent moraine and alpine valley beyond. The views from this pass crossing to the peaks of Khumbu are unmatched. Any spare moment one may have whilst we are climbing and descending will allow one to appreciate the spectacle of the peaks of the region.

Day 22, 23 & 24: Trek to Lukla, 4-7 hrs walk
Our trek starts descending through the famous Khumbu Valley to Tangboche Monastery and Namche Bazaar. Namche is known as the Sherpa capital and it is a great place to wonder around, visit the Tibetan stalls or enjoy the Swiss bakeries. We descend the slopes of Namche to the Dudh Kosi joining the main trail to follow at riverside through numerous villages to Phakding. On crossing the bridge, we trek a short distance up and around, to the broad flat spur that Lukla lies upon. The last night is always memorable for an end of trip celebration with all the crew and porters.

Day 25: Fly to Kathmandu
After an early morning flight to Kathmandu our guide transfer you to your hotel then spend the day your self.

Day 26: Departure to your home
Today is free or last minute shopping for souvenirs or gift to your family, friends or relatives for you until your departure flight.

Cost Inclusive:
Arrival & departures by private vehicle .
3 star Accomodation in Kathmandu on bb plan for 3 nights.
Welcome & farewell dinner in Kathmandu
Sightseeing with city tour guide in Kathmandu
All domestic airfares as per the itinerary
Full board meal (breakfast, lunch, dinner, tea & coffee) in during the trek
Comfortable accommodation on teahouse/lodge & camping during the trek and climbing period
Trekking/Climbing peak permit/s & other necessary fees
Necessary group climbing gear & equipments
Trekking/Climbing Guide (English speaking, First Aid trained), Sherpa helper, all payments
Sagarmatha National park entry fee and permit
Exclusive medical kit bag
All government and local taxes
Cost Exclusive:
Visa fees, intl. airfare
Personal climbing equipment (can be buy/hire in Kathmandu)
Garbage deposit fees US$ 250.00 (refundable)
Lunch and dinner in city
Travel and rescue insurance
Personal expenses e.g. phone calls, laundry, bar bills & extra porters
Tips for guides and porters