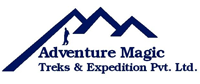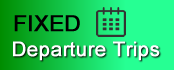 Everest Base Camp Trekking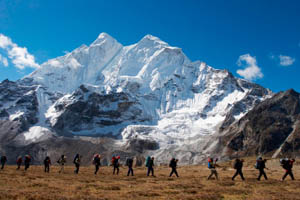 Everest base camp trekking is most rewarding trip in Nepal.As it offers dramatic views of the world's tallest peaks.

Everest Base Camp Treks has been famed since when Sir Edmund Hilary and Tensing Norgay made the first successful summit in 1953 May 29th.Trek to Everest Base camp is the most popular and challenging trek in Khumbu region of Nepal. Mount Everest base camp Trekking is famous for its spectacular mountain peaks and friendliness of its inhabitants(Sherpas).Khumbu is one of the most popular destinations for tourists.Trekking to Everest base camp begins by flight from Kathmandu to the mountain airstrip to Lukla, the heart of Everest Region,then after around three hours walk,we reach at Phakding and then we continue north up to Dudh Kosi valley and to Namche bazaar,where we spend one day for acclimatization. Then next day, we continue our trekking to Kala-Pattar and subsequently to the Everest base camp. We have one day rest in Dingboche or Pheriche in between and for some side-trips and for further acclimatization from the area, one can have some magnificent views of Everest along with Nuptse, Lohtse and Mount Pumori and return back to Lukla and catch the flight to Kathmandu.

This trip offers superb Himalayan sceneries including of Mt. Everest (8848m), Mt Lhotse (8516m), Mt. Nuptse (7855m), Mt. Pumori (7161m), Mt. Changaste (7550m), Mt. Lingterin (6679m), Mt. Amadablam (6856m), Mt. Thamserku (6723m), Mt. Kantega( 6685m), Mt.Kusum Khagaru (6367m),Mt.Kongde (6011m), Mt. Khumbila (5761m) , Mt. Twache peak (6367m), Mt. Cholaste (6335m) ,Island peak (6179m), Lobuche peak (6145m),Pokalde peak (5806m), Honku south peak (6119m) and one can spot various animals such as musk dears, leopards, jackals, mountain Thar, birds such as Pheasant, long tails birds and beautiful blend of Sherpa culture.Everest Base Camp is situated on the lap Khumbu Glaciers.


Day to Day Itinerary for the Everest Base camp Trekking:
Day 01: Arrival day in Kathmandu (1,300m/4,264 ft).
Upon arrival at the Tribhuvan intl airport our representative greets you and transfer to hotel in Kathmandu,hotel is located at the centre of Kathmandu and briefing about your your trip and overnight at Hotel.

Day 02:Fly to Lukla (2,800m/9,186ft) & trek to Phakding (2,652m/8,700ft), 3-4 hrs walk
Your day will start with the senic fly from Kathmandu to the tiny airstrip at Lukla for about 30 minutes scenic flight; you will have time to stroll around, while the guide sort and divide the load baggage to be carried by porters. Guide will manage the lunch place depending upon the time of arrival at Lukla. We then take an easy walk to Phakding village for the overnight stop and rest of the time look around the village for local cultural experiences.

Day 03: Phakding to Namche Bazaar (3,440m/11,283ft), 5-6 hrs walk
After breakfast your second day to everest base camp will continue up the banks of the Dudh Kosi, crossing it twice by small suspension bridges before reaching the village of Monjo the entrance gate of the Sagarmatha National Park . When enter the National park boundary we descend and a gradual walk brings us to the suspension bridge over the Bhote-Koshi river to Jorsalle village, the last village till Namche Bazaar.Namche is a prosperous trading town and the capital of the Khumbu Region.Mt Everest can be seen today while we hike to namche bazaar.

Day 04: Acclimatization day at Namche Bazaar
We will spend a day in Namche Bazaar resting and allowing our bodies to become acclimatized to the altitude of (3,440m/11,283ft).You have full day leisure or visit Everest View Point hotel in Syanboche for wonderful panoramic views and also possible to see all the way of everest base camp trail & Everest.if Saturday can be seen many people in Saturday market for shopping to fulfill their daily needs and only one shopping market in the surrounding areas. Also you can visit Sherpa Museum as well a great place to learn Sherpa culture and history of mountaineering and stroll back to hotel for overnight.

Day 05:Namche to Tyangboche (3,867m/12684ft), 5-6 hrs walk
After breakfast we start our trek with pleasant walk through the forest with magnificent view of mountains.The great view of the mighty peaks of Everest, Nuptse, Lhotse , Ama Dablam, Thamserku and Kwangde peak with view of the eastern snow capped mountains. The trail leads up hill through the forested path and the hardly walk to get to Tyangboche. One of the most beautiful place in the Himalaya and the first thing that comes to your eye is the big Monastery, then the large field with campsites and teahouses, lodges beneath the towering majestic beautiful peak Ama Dablam.You will have great view of everest from your hotel in tyangboche.

Day 06: Tyangboche to Dingboche (4,358m/14,295 ft), 5-6 hrs walk
The trail descends down from Tengboche,winding through the rhododendron forest to Deboche and crossing a bridge over the raging Imja Khol River. Hug the valley wall, and then traverse the plains to Dingboche, the start of the Imja Tse Valley . Dingboche is also the gateway to Chukung and farther beyond for the most challenging traverses towards Makalu area and Hinko Valley via Sherpani col 6,100m and Amphu Laptsa pass 5,780m.

Day 07:Acclimatization day at Dingboche
On this day you will rest before the last leg of the journey. You may have full day rest or there are some places where you can go for a day walk like trek to Chhukung (4,730m) is worth while which takes approx. 3-4 hours from Dingboche, towards east with in the Imjatse Valley, although the trek is gradual, however you can feel the thin air as the altitude gains slowly coming towards Chhukung. At Chhukung, there are few teahouses overlooking superb view of the snow capped peaks and glaciers After enjoy stroll back to Dingboche for overnight.

Day 08:Dingboche to Lobuche (4,928m/16164 ft), 5-6 hrs walk
Tackle the steep incline to the terminal moraine of the Khumbu glacier, continuing along the rugged route to your resort at Loboje. Above the huts looms the famous Lhotse Ridge.

Day 09: Trek to Gorakshep (5,160m/16,929ft) & hike to Everest Base Camp (5,320m/17,450ft) 5-6 hrs walk
After breakfast we continue our trek to Gorekshep in a windy and rocky path with the wonderful view of Mt. Pumori , Mt. Nuptse,Everest and other magnificent peaks. After check in at lodge & lunch, our adventure continues to wards Everest Base Camp and to the Khumbu Ice-fall.The trail passes through over rocky dunes and moraine and streams, till you reach the base camp. In Everest Base Camp the climbers gather for summiting Everest during the high expedition season. We explore Everest base camp.Everest base camp is full of with white rocks and snow.you can touch the glacier to.Everest base camp is kind of valley.From everest base camp we can see the beautiful views of world biggest khumbu glacier to.

Day 10: Early Hike to Kala Pathar(5,550m/18,204ft) & trek back to Pheriche 6-7 hrs walk
Guide will arrange time for this morning to start early hike up to Kala Pathar for the most wonderful sunrise views of the Everest. It takes about 2 hours to reach this hill top (the famous view point).This small peak offers the best views of Mt. Everest, Nuptse, Pumori and Ama Dablam along with the entire mountain views of Khumbu Himalayan range and we also can see most popular everest base camp.Being here for some hours,we hike down to Gorekshep,breakfast and retrace back towards Pheriche for overnight.

Day 11: Pheriche to Namche (3,500m/11,480ft), 5-6 hrs walk
Heading down now, the going is easier and the pace faster. Take back great memories with you and walk down hill towards the Phungithanka vis Tangboche and after crossing the suspension bridge over the Dudh Koshi river trek onwards to the Kyanjuma the junction of the trinity ways to Gokyo Valley , Khumjung village and Namche Bazzar. Great view of Ama Dablam, Thamserku, Tawache and Lhotse as well as dense wildlife of some species of Pheasants, Himalayan Griffons, Musk deer and wild goat can be found insides the rhododendron forest, evening explore Namche Bazar.

Day 12: Namche to Phakding(2,850m/9,348ft),4 hrs walk
Today after breakfast short climb to hidden valley called Khumjung village, probably the biggest village of the areas and visit Hillary school established by Sir Admund Hillary and visit to Khunde village where a place of famous climber and big hospital running by charity, after a great moments take back to Namche Bazzar for lunch via Syangboche airstrip which is the world highest airport in the world.We walk back to the downhill for overnight at Phakding.

Day 13: Phakding to Lukla (2,800m/9,186ft),3hrs walk
Leisurely this morning we trek back to Lukla, you can walk at your own pace and enjoying the lush green scenery around and passing through the incredible mountain scenery and local Sherpa village. Arrival in Lukla and you'll have time to stroll around the areas and guide will re-confirm your flight ticket and enjoy the last celebrate dinner with your crew member and overnight at Hotel.

Day 14: Fly back to Kathmandu
An early morning you will fly back to Kathmandu, our guide transfer you to your hotel and free time .

Day 15:Departure from Kathmandu
Today is free or last minute shopping for souvenirs or gift to your family, friends or relatives for you until your departure flight/drive.you'll be transferred to the International Airport for your departure flight to your home.

Cost Inclusive:
Airport arrival and departure by private vehicle
2 star accommodation in Kathmandu with breakfast
kathmandu-Lukla-Kathmandu flights
Full board meal (breakfast, lunch, dinner, tea & coffee) in during the trek
Comfortable accommodation on teahouse/lodge during the trek
Trek leader (English speaking, First Aid and eco trained), Sherpa helper, and all payments
Sagarmatha National park entry fee and necessary permits
Everest base camp trek permit & tims card
Down jacket and four seasonal sleeping bag
Exclusive medical kit bag
All government and local taxes.
Cost Exclusive:
Lunch and dinner in kathmandu
Travel and rescue insurance
Personal trekking Equipment
Personal expenses e.g. phone calls, laundry, bar bills & extra porters
Tips for driver, guides and porters
Any extending trips
Services doesn't include in service inclusive column